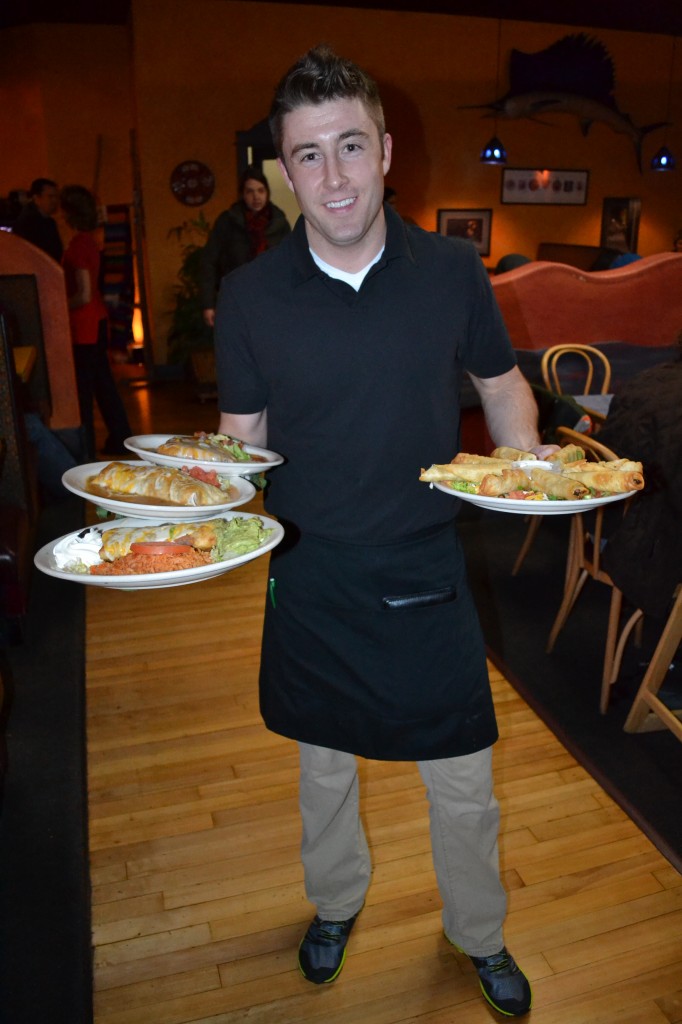 Having a party?
Jalapenos would love to welcome you and up to 30 of your closest friends and family in our banquet room.
We offer buffet menus for parties over 25 and Jalapenos will even design a custom menu for your special event.
Contact Jalapenos today to reserve your date!
Or, see our Take Away Menu below for examples of things we can prepare in large quantities to be picked up for your event.
Buffet & Party Menu
Chips & Salsa
CHIPS & SALSA SPECIAL – 1 lb bag chips & 8 oz salsa
SALSA Hot or Mild
GUACAMOLE
CHIPS
---
Salads and Entrees
GREEN GARDEN SALAD – Mixed Greens tossed with Croutons, Carrots, Red Cabbage and your Choice of Litehouse Dressing. Serves 7-10 guests
DESSERT BUNUELITOS – Bite Size Pieces of Crispy Fried Flour Tortillas Dusted with Cinnamon Sugar. A tastebud treat after Mexican food! Serves 10-15 guests
---
Side Dishes
RICE
BEANS – Choice of Refried, Pinto or Black Beans
---
Nachos
Our homemade chips topped with Spicy Ground Beef, Mole Sauce, Shredded Monterey Jack & Cheddar Cheese, Guacamole, Sour Cream, Tomato, Green Onion and Jalapenos — Tray Serves 8-10
Enchiladas
Soft Corn Tortillas rolled with your Choice of fillings. Topped with our Original Mole Sauce & a blend of Shredded Monterey Jack & Cheddar Cheese. 15 Enchiladas per tray
Cheese
Shredded Chicken
Shredded Beef
---
Taco Bar
Shredded Chicken or Beef, Cheese, Lettuce, Tomato & Salsa Fresca and Crisp or Soft Taco Shells, served with Rice & Beans — Minimum of 10 people.
---
Homemade Tamale
Shredded Beef Ready to Eat or Frozen. Served with a Quart of Jalapeno's Original Mole Sauce
Chili Rellenos
Tray of 12 California Green Chili stuffed with Jack Cheese, dipped in an Egg Batter, deep fried & covered with Ranchero Sauce & Melted Cheese
---
Classic Fajitas
Our famous Grilled Steak, Chicken, or Vegetable Fajitas….ready to serve with Sautéed Onions & Bell Peppers, Sour Cream, Guacamole, Rice & Beans, and your Choice of Flour or Corn Tortillas — Serves 12-15
---
Flautas
Crispy Flour Tortillas Stuffed with Seasoned Shredded Chicken or Spinach & Artichoke — Tray of 48 2″ flautas — Served with Pint of Jalapeno Ranch Dip.
---
Extras
Pkg dozen 8″ Flour Torts
Pkg dozen 6″ Corn Torts
Pkg dozen 12″ Flour Torts
Large Flour Taco Salad Shell
To Download and Print Our Take Away Party Menu, Click Here.